INFUSED CREMATIONS - CREMATION GLASS ART

Purchase 4 & get 1 on us!
Cannot be combined with other discounts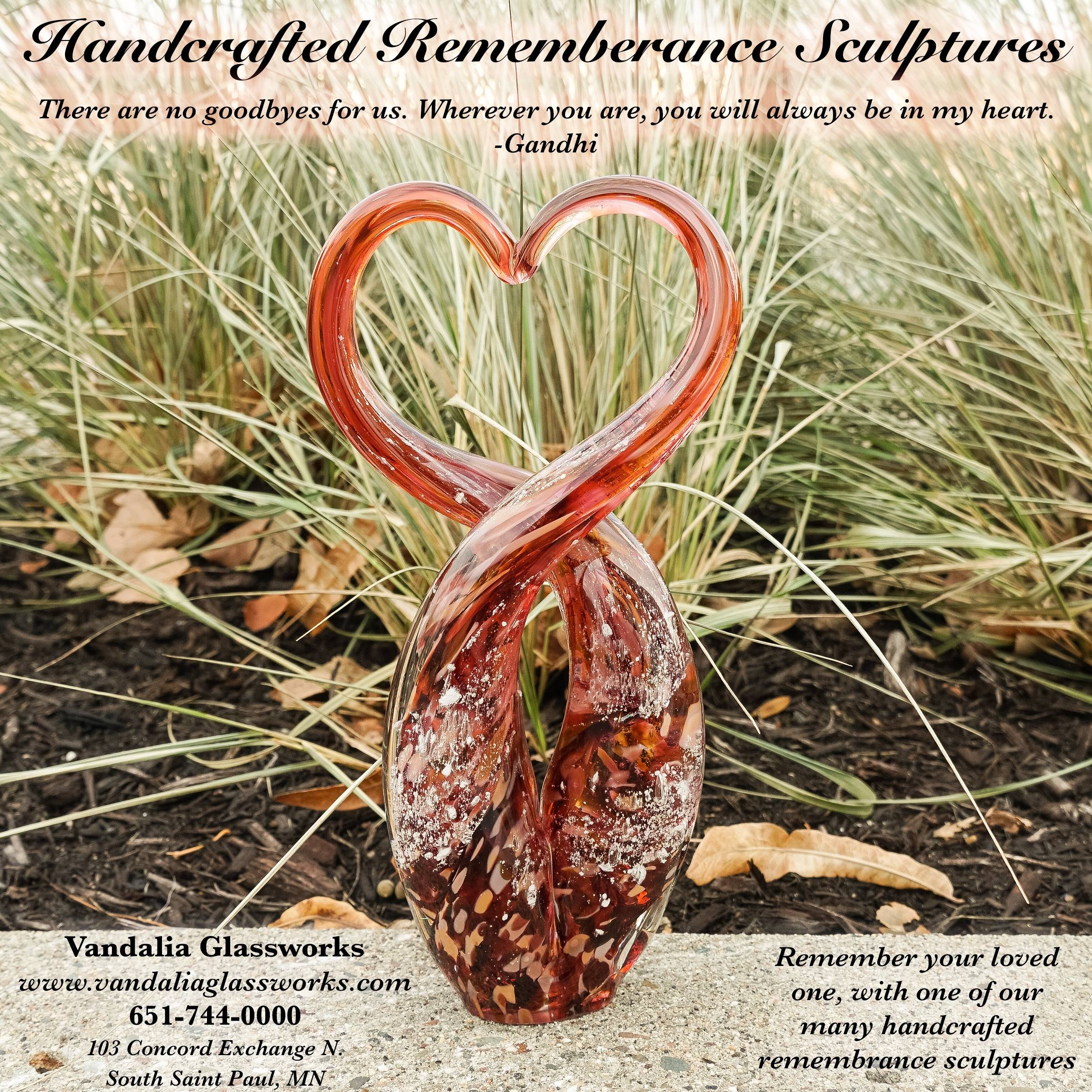 TURN YOUR LOVED ONE'S CREMATION ASHES TO ART
Each glass memorial is handcrafted by our master artisans. They'll use molten glass melted inside a special furnace. Because of the intense heat, the glass becomes soft and malleable which allows it to be formed into the desired shape. Colored pieces of glass will also be added and manipulated to create lovely patterns you'll see inside the finished piece.

HOW-TO ORDER INFUSED CREMATION ART
1. Choose between the Memorial Tear Drop, Memorial Egg, Memorial Swirl, Memorial Love Knot, Memorial Heart Sculpture or the Memorial Ripple versions.
2. Choose your preferred color and place your order. In the order notes please specify if you are shipping the remains to us in your own container or if you would like a cremation kit mailed to you. Please return kits to P.O Box 513, South Saint Paul, MN 55075
3. If a kit is needed, one will be mailed to you. Kits typically arrives in 3-5 business days. If you are local to the Minneapolis/St. Paul area you may pick up and drop off the kit up in person.
4. Once the kit is returned, we will take the utmost care to maintain the integrity of the remains.
5. Once the piece is complete we will carefully package the artwork along with any remaining ash and send it back to you. The going lead time is 14-21 days.
6.Your loved one's memory will live on with this beautiful piece.
If you have any questions or would like to create different variations, give us a call at (651)-744-0000 or send us an email at info@vandaliaglassworks.com.